Robyn Thayer has been making the world a more appealing place as a beauty maker and story teller since her first smile. Her maternal grandmother was instrumental in developing Robyn as a crafter and her paternal grandmother taught her how to dig into the Earth. Following suit, her mother and father provided her respectively with glue, wiggly eyes, dirt, and seeds.
Growing up in the magical woods and waters of the Northern Midwest, much of her childhood was spent in her fabulous imaginary world, either at her crafting table or outside, in a boat, fort, or flower bed -where dreams, sky, and wind all caressed her with their lavish secrets and plans. Today she still spends her summers next to a Wisconsin lake where much of her imagery comes from, while digging her hands into the natural world and playing all summer long. Winters are spent on a Mountaintop in her Colorado studio, translating her summer treasures into paint.
Her art education is informal and profuse; a daily act. Robyn is a prolific artist and she has a wide array of interests such as, quilting, embroidery, poetry, meditation, and gardening, which feed her painting style. Robyn's favorite artwork is large in scale and she prefers to use acrylics, water-soluble graphite and crayons, to create representational, contemporary abstract paintings. In this way she is able to convey a dreamlike quality- reflecting the innocence and grandeur of where the private inner world and the wild outside meet.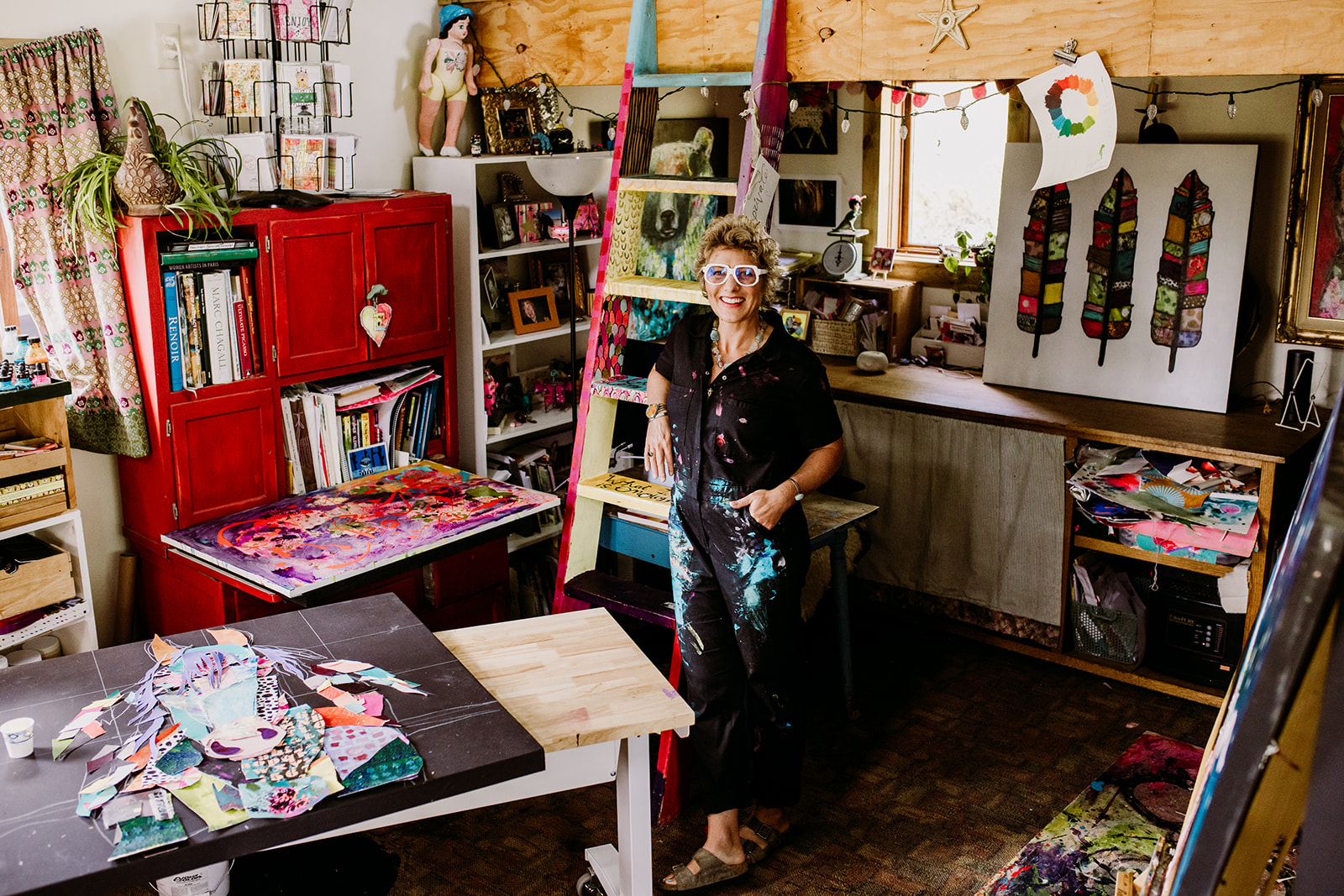 My most intimate conversation is painting. It is a dialog between my life experience and a power greater than myself. I begin a painting organically, scraping excess paint off my palette, from one canvas to another.
The internal workings of life- feelings, bones and joints, magma- all reveal themselves to me as I build, layer upon layer, of paint and line Graphite is my equivalent of cobwebs, a connective tissue, giving structure to impulse. Thick acrylic paint is worked into a surface with my favorite tool, the credit card. I scrape, smear, and rub paint together the way a river shapes a stone, a soul emerges. Water soluble crayons contribute to the surface energy, the result is a painting full of glowing vitality.
Currently I am exploring animal shapes within my art. Fish, Horses, and Buffalo are all frequent visitors in my daily life. As I see them emerge from my underpaintings, they impart to me a strength and fortification. I feel coupled with the primal energy of the universe as I paint them.
Education
1981-Present, Self Taught Artist
2006 Certified Reiki Master, Ushi Shiki Ryoho
2002 Certified Massage Therapist, Boulder College of Massage Therapy
2000 Bachelor of Science, Biology, University MN-Duluth
Gallery Representation
2022-Present, Hotel Teatro, Denver, CO
2019-Present, Ahmyo River Gallery, Santa Fe, NM
2002-2022, Lakes Area Gallery and Framing, Crosslake, MN
2019-2021, Mountain Home, Evergreen, CO
2001-2012 Spirits of the Rocks Gallery, Glen Haven, CO
Solo Exhibitions
2023 Featured Artist, Inside Out, Ahmyo River Gallery, Santa Fe, NM
2022 Featured Artist, Beneficence of Wonder, Hotel Teatro, Denver, CO
2021 Featured Artist, Who, Ahmyo River Gallery, Santa Fe, NM
2018/19 Featured Artist, Fur, Fin, & Feather, Hotel Teatro, Denver, CO
2017 Featured Artist, Showcase Gallery, Gilpin Arts, Central City, CO
2011 Featured Artist, First Friday Exhibit, Om Time, Denver, CO
2008 Featured Artist, First Friday Exhibit Dancing Colours, Carbondale, CO
2002 Featured Artist, Lakes Area Gallery, Crosslake, MN
Group Exhibitions
2022 Open Door Studio Tour, Evergreen, CO
2022 Member Show, Evergreen Center for the Arts, Evergreen, CO
2022 Nature of Layers, Ahmyo River Gallery, Santa Fe, NM
2022 Member Show, Foothills Art Center, Golden, CO
2022 ARTma, Denver Design Center, Denver, CO
2021 Big Sky Art Auction, Wilson Plaza, Big Sky, MT
2021 120 Show, Evergreen Center for the Arts, Evergreen, CO
2021 Member Show, Foothills Art Center, Golden, CO
2021 Member Show, Evergreen Center for the Arts, Evergreen, CO
2021 Open Door Studio Tour, Evergreen, CO
2020 Curious Inclinations, The Evergreen Gallery, Evergreen, CO 
2020 Member Show, Foothills Art Center, Golden, CO
2020 Member Show, Evergreen Center for the Arts, Evergreen, CO
2019 Open Door Studio Tour, Evergreen, CO
2019 Rocky Mountain National Watermedia Show, Center for the Arts, Evergreen, CO
2019 Amuse Yeux, Foothills Center for the Arts, Golden, CO
2019 120 Show, Evergreen Center for the Arts, Evergreen, CO
2019 Art of the Egg, Go Paint!, Evergreen, CO
2018 Fine Art Pop-Up, Rundquist Studio and Gallery, Evergreen, CO
2018 Amuse Yeux, Foothills Center for the Arts, Golden, CO
2018 Hey Diddle Diddle, Niza Knoll Gallery, Denver, CO
2018 120 Show, Evergreen Center for the Arts, Evergreen, CO
2018 Art of the Egg, Main Street Arts, Evergreen, CO
2017 Member's Show, Foothills Art Center, Golden, CO
2017 Women's Empowerment Show, M. Romero Gallery, RINO Art District, Denver, CO
2017 Fine Art Pop-Up, Evergreen Terrace Building, Evergreen, CO
2017 Open Door Studio Tour, Evergreen, CO
2017 Rocky Mountain National Watermedia Show, Center for the Arts, Evergreen, CO
2017 Amuse Yeux, Foothills Center for the Arts, Golden, CO
2017 Colorado's Oldest Juried Show, Washington Hall Gallery, Central City, CO
2017 Member's Show, Gilpin Arts, Central City, CO
2017 120 Show, Evergreen Center for the Arts, Evergreen, CO
2017 Art of the Egg, Main Street Arts, Evergreen, CO
2016 Open Door Studio Tour, Evergreen, CO
2015 Open Door Studio Tour, Evergreen, CO
2015 Wild Collaboration, Pajama Baking Co., Denver, CO
2015 Wild Collaboration, Nellebelle General Store, Evergreen, CO
2010 One of a Kind Show, Chicago, IL
2010 Open Door Studio Tour, Evergreen, CO
2009 Open Door Studio Tour, Evergreen, CO
2008 Open Door Studio Tour, Evergreen, CO
Invitational Exhibitions
2021 Mountain Home's Annual Artists Reception, Evergreen, CO
2019 Ahmyo River Holiday Artists Reception, Santa Fe, NM
2019 Mountain Home's Annual Artists Reception, Evergreen, CO
2018 Horn, Feather, Egg, Nellybelle General Store, Evergreen, CO
2017 Western States Juried Show, Gilpin Arts, Central City, CO
2015-2016 Evergreen Terrace Building, Evergreen, CO
2014-2016 Evergreen Massage Center, Evergreen, CO
2012-2013 Eve on Larimer Square, Denver, CO
2013-2014 True Yoga, Evergreen, CO
2008-2012 Willow Creek Restaurant, Evergreen, CO
Publications
2023 Santa Fe Newspaper, Weekend Edition, image and caption, Out There, by Ania Hull/For the New Mexican
2022 Colorado Serenity Magazine, interview and images, Meet Robyn Thayer, by Sandy Hoban, link here: https://coloradoserenity.com
2022 Canvas Rebel Magazine, interview and images, Meet Robyn Thayer, by self authored, link here: https://canvasrebel.com/meet-robyn-thayer/?fbclid=IwAR2Q_AGTsHpxAfEiulgP4eYkUjIjEmEOM_1m53OuKd0m3GWSB6mC5pL7SHQ
2021/22 In Her Studio Magazine, Nov/Dec/Jan 2021, cover, article and image, My Magic Castle, by self authored, pg. 48-55
2021 Explore Big Sky Newspaper, interview and images, Artist Spotlight:Robyn Thayer, by Bella Butler, link here: https://www.explorebigsky.com/artist-spotlight-robyn-thayer/39903
2019 Voyage Denver Magazine, interview and images, Meet Robyn Thayer, by self authored, link here: http://voyagedenver.com/interview/meet-robyn-thayer-robyn-thayer-fine-art-evergreen/
2019 Art Journaling Magazine, Jan/Feb/Mar 2019, article and image, A Language of my Own, by self authored, pg.124-128
2018 artboss Blog, A Day in the Life of a Creative, Interview, link here: https://www.artboss.co/a-day-in-the-life-of-a-creative-robyn-thayer/
2018 Art Career Coaching Newsletter, Interview
2018 Haute Handbags, "Best of" Magazine, Spring, Cover image, article and image, A Painting on the Go by self authored, pg. 32-35
2015 Art Journaling Magazine, July/Aug/Sept, article and image, pg. 75
2015 Somerset Memories, article and image, Mamahood Journal by self authored, pg.102-104
2015 Haute Handbags, Autumn, article and image, A Painting on the Go by self authored, pg. 39-43
2014 Art Journaling Magazine, Winter, article and image, pg. 68
2014 Somerset Studio Gallery, Winter, image, pg. 60
2014 Edible Aspen, Fall, image, pg. 24
2014 Art Journaling Magazine, Autumn, article and image, Beyond Chokecherries by self authored, pg. 52-57; 59; 96
2014 Art Journaling Magazine, Spring, article and image, pg. 65
2013 Art Journaling Magazine, Autumn, article and image, Daily Play by self authored, pg. 52-57; 68; 96; 112-116
2011 Somerset Studio, Nov/Dec, article and image, Daring to be an Artist and Sipping and Chewing Letters, by self authored, pg. 18-21
2011 Create With Me, Summer, article and image, Art in the Mail by self authored, pg. 74-77
2011 Somerset Studio, July/August, article and image, pg. 121
2011 Art Journaling Magazine, Summer, image, pg. 125,134-135
2010 Somerset Studio, Nov/Dec, article and image, A Bold Holiday by Christen Olivarez, pg. 22-23
2009 Somerset Studio, Jul/Aug, cover image and article, Soul Revealed by self authored, pg. 60-63
2009 Somerset Studio, May/Jun, article and image, pg 30
2008 Somerset Studio, Sept/Oct, article and image, pg 31
Professional Development
2022 Essential Mentorship, Elena Brower, Santa Fe, NM
2019 Change Makers, Workshop, Santa Fe, NM
2018 Making Meaning, Workshop, Santa Fe, NM
2018 100 Works on Paper, Misty Mawn, Online Painting Course
2017 Creative Management, Workshop, Santa Fe, NM
2017  Lovely Lassies, Online Figure Painting Course
2017 Animal Antics, Tracy Verdago, Online Painting Course
2017 Gathering Beauty | A Study in Still Life Painting, Wendy Brightbill, Online Course
2017 Embrace Yourself, Misty Mawn, Online Art Journaling Course
2016 Grace and Grit, Katie Kendrick, Online Course
2015 Entwined, Misty Mawn, Online Portrait Painting Course
2012 Illustrative Workshop, Katherine Dunn, Online Sketching and Painting Course
2012 Muse, Katie Kendrick, Intuitive Portrait Workshop, Parker, CO
2012 Bloom True, Flora Bowley, Online Intuitive Painting Course
2011 Misty Mawn, Online Creativity Course
2011 Bloom True, Flora Bowley, Intuitive Painting Workshop, Boulder, CO
2010 Katie Kendrick, Intuitive Portrait Workshop, Ft. Collins, CO
2009 Golden Paints Workshop, Mary Morrison, Denver, CO
2008 Golden Paints Workshop, Mary Morrison, Denver, CO
2007 Golden Paints Workshop, Mary Morrison, Denver, CO
Other Art Activities
2021 Donation, Evergreen Center for the Arts, Evergreen, CO
2021 Donation, Artma, Denver, CO
2021 Donation, Resilance 1220, Evergreen, CO
2019 Donation, Artma, Denver, CO
2019 Donation, Evergreen Center for the Arts, Evergreen, CO
2018 Donation, Evergreen Center for the Arts, Evergreen, CO
2018 Donation, Artma, Denver, CO
2017 Children's Art Show, Art Director, Evergreen, CO
2017 Fine Art Pop-Up, Art Director, Evergreen, CO
2017 Donation, Evergreen Montessori, Evergreen, CO
2017 Donation, Evergreen Center for the Arts, Evergreen, CO
2014 Donation, Artma, Denver, CO
2014 Sugar Plum Bazaar, Denver, CO
2012 Donation, Artma, Denver, CO
2012 Larimer Square Window Art, Denver, CO
2012 Green Truck Show, Evergreen, CO
2011 Green Truck Show, Evergreen, CO
2011 Sugar Plum Bazaar, Denver, CO
2011 Horseshoe Market, Denver, CO
2010 Green Truck Show, Evergreen, CO
2010 Horseshoe Market, Denver, CO
2010 Wanderlust Festival, Squaw Valley, CA
2010 Donation, Chanda Plan Foundation, Denver, CO
2008 Donation, Chanda Plan Foundation, Denver, CO
Other Professional Experience
2016-Present Art Career Coaching, Kathy Beekman, Bailey, CO
2023 Online Presenter, Rebel Wisdom, Thrive Creative Community, Bailey, CO
2022 Artist Talk, Living with Creativity, Evergreen Center for the Arts, Hotel Teatro, Denver, CO
2022 Workshop Instructor, Heart Collage Workshop, Mother's Moving Mountains Retreat, Flourrisant, CO
2020 Workshop Instructor, Heart Collage Workshop, Mountain Home, Evergreen, CO
2019 Workshop Instructor, The Fine and Totally Fun, Art of Collage, Embolden Studio, Denver, CO
2019- Interview, VoyageDenver, LA, CA
2019- Interview, Canyon Courier Newspaper
2019-Interview, Artboss, online
2018 Interview, Art Coaching for You, Online
2017-2018 Freelance Designer, Faber-Castell
2017 Workshop Instructor, The Fine and Totally Fun, Art of Collage, Robyn Thayer Fine Art Studio, Evergreen, CO
2017 Creative Management Workshop, Art Coaching for You, Sante Fe, NM
2016 Art of Money, Bari Tessler, Online, Year-long Money School
2011 Workshop Instructor, Art Journaling, Center for the Arts, Evergreen, CO
2011 Workshop Instructor, Layers, Collage, Lettering, Studio Lila, Evergreen, CO
2011 Workshop Instructor, Layers, Collage, Lettering, Studio Lila, Evergreen, CO
2010 Workshop Instructor, Build a Journal, Studio Lila, Evergreen, CO
Memberships
Foothills Center for the Arts, Golden, CO
Evergreen Artist's Association, Evergreen, CO
Evergreen Center for the Arts, Evergreen, CO
Denver Art Museum, Denver, CO
Collections
Throughout USA, Canada, Mexico, Denmark, France, Chile, Australia, and New Zealand